As the holiday season approaches, you can almost smell the delicious meal that's waiting around the corner. Our team loves Thanksgiving and gathering around the table to make memories with loved ones, but we understand that it can be hard to know what classic recipes are braces-friendly. We know you have enough on your plate during this busy season, and we don't want you to stress out about planning dishes that cater to the braces-wearer in your family. That's why we have found the tastiest recipes for you to try that will satisfy your tastebuds while protecting your brackets and wires. Read below for a few orthodontist-approved meals that are sure to become a family favorite.

Braces-Friendly Recipes

Our first recipe is Italian Sausage Stuffed Mushrooms. These delectable bites are sure to impress your guests and are soft enough for anyone in corrective treatment to enjoy. Typically, foods that are sticky, hard, or chewy will pull at wires and break brackets. No one wants to put their treatment progress at risk during Thanksgiving dinner, and these stuffed mushrooms are the perfect way to enjoy the holiday safely.
The next recipe is everyone's favorite, Green Bean Casserole! You can put this savory dish together in no time at all, leaving you with more time to spend with family and friends. Just like the mushroom recipe, Green Bean Casserole is soft and easy to chew, so you can enjoy a meal without worrying about a broken appliance. The last thing anyone wants to do on Thanksgiving is deal with discomfort.
The best way to top off a delicious meal is with a tasty dessert. These Soft Pumpkin Cookies with icing will melt in your mouth and serve as the perfect fall treat. This recipe is perfect for any family member with a sweet tooth and is a great dish for your braces-wearer. Everyone deserves to join in on the fun for Thanksgiving, and we hope these recipes make it a little easier for you to plan a legendary dinner while considering those in braces.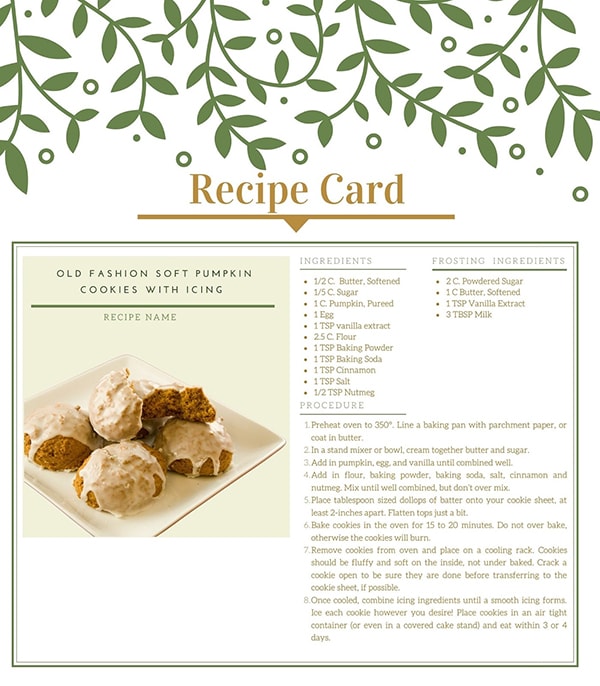 Our team wants to wish everyone in our patient family a Happy Thanksgiving and holiday season. Working towards a perfect smile doesn't have to get in the way of enjoying traditions, and with these recipes, everyone can have fun and feel included! If you have any questions about how to best take care of braces during the festivities, our team is always available to help.